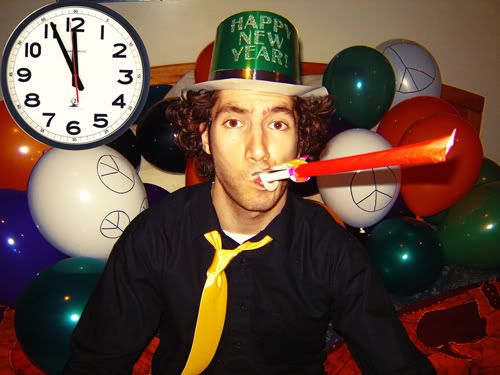 Well its a New Year. A happy one? I'll sure as hell say so. I hope you had a happy Christmas, Kwanzaa, Hanukkah, Wednesday, Saturday, Boxing Day. Mine was all really awesome. My Hanukkah was a bit off a write of because of my late hours at work. Although tensions with my family were on high alert - so I think this year was just meant to be a bit melancholy. However my little sister bought me some really nice body shop nick-knacks. LOVE EM! My Christmas was fantastic though! This year I spent it over on the island with my girlfriend and her family, and I got spoiled majorly!
My girlfriend spoils me enough just with her love, warmth and affection, but I felt like a spoiled little brat this Christmas. I've never really had a girlfriend go "all out" for me on any occasion whether it was my birthday or any holiday. There have been some nice gestures in the past, but nothing like what Kyla did at all. She made me this beautiful memory box covered in pictures and memories and filled it with all sorts of goodies to pamper myself with. Lets just say she knows me too well. She also bought me the comfiest robe I have ever worn in my life! It takes a lot of will power just to take it off. And if that weren't all enough she also bought me a Buddha board! I had seen it in the mall a couple months back, and TOTALLY forgot about it. I was shocked when I opened it up. If you don't know what a Buddha board is, I made a quick video to show:
Her mom also gave me a box filled with candy and socks and toys, and she also made me three BEAUTIFUL candles. I don't even know if I'll be able to them, I like them so much. Then we went and visited her grandma in our pj's where I had some of the most delicious baked goods I've ever had. I definitely hope we visit granny more often :P And after that we had a wonderful dinner at her cousin's place.
Definitely one of the best Christmas' I've ever had.
Then I was back just in time to celebrate my brother's 19th birthday. We had a couple night's of celebrating since he is finally legal drinking age. And since he doesn't have to use MY id anymore, we can finally go out drinking together for once. We went to Clancy's - a small quiet bar just across town for his actual birthday on the 26th. I bought him a shot of 151, which topped off his night nicely. I went out for lunch the next day at a small diner with him and his friends, and then to Foggy Dews Friday night for drinks and dancing. It was good times, and fun to see Max in that sort of atmosphere, and getting to know his friends on another level.
New years was very tame. Just me and my girl at my place. Some drinks. Some Pizza. Some Scrabble. Some Jenga. A nap here and there. And a joint. I wouldn't have wanted to bring in the new year any other way. In fact, we ended up doing two nights of celebrating. The second night was a bit more scandalous though...I wont be going into any details there, I will only say that it was nothing short of amazing, and I wish every night could be just like that.
Again I've been really lame with my Blog updates, and I know I would be able to put in more detail into all of these events if I made them more frequently. BUT - I have a plan on how to do better with that. I'm making it one of my NEW YEARS RESOLUTIONS!!!!!
Yes....thats right. This year I am making some resolutions...something I've never really done before. But here they are:
1. More frequent blogs
2. Listen to more Neil Diamond
3. Make more time for creativity
4. Watch less TV
5. Phone girlfriend more often
6. Eat breakfast
7. Go back to school
8. Make more time for friends
9. Take more photographs
10. Get rid of "N" drivers license
11. Go swimming at least once a week.
Yeah, that should do it...
We'll see how that all goes. And if everyone could be so kind as to kick my ass every so often to make sure I'm keeping up with them all.
HAPPY NEW YEAR!!
Peace and love
Jordan