As i happily enjoy my evening tv flick
tired and hungry after a long shitty day
i'm disturbed right at the climax the story
like a salesman barging right into my home
talking about this heavenly goodness tasteful delight
and all i have to do
is drive 2Km
to the nearest McD's
and pick up two chicken burgers
for 5% of the work i slaved over earlier today
i figure good deal
theres nothing in the fridge
haven't eaten all day
and could really go for a bite
they look pretty tasty in the picture
i do the procedure
and claim my order
not as quickly as i hoped
pollute the earth with my car
spend 20 minutes in that ugly drive through
yay
a paper bag
a receipt
4 napkins
a large paper bag
two wrappers
a staple
and a packet for my extra mayo
all to waste on the earth
hear on after this moment
and for me
two lives
two buns
and whatever crap they put in them
I must bare the smell
the whole drive home
i'm drooling
I race with time to my television
to catch what i can
of the interesting show i was watching earlier
I MISSED THE WHOLE THING
i'll never know what happened
fuck these burgers had better be good
i unwrap my first
cant wait to bite in
what the shit?
Idiots forgot the top of the bun
I'm pissed
i unwrap the other
the same
jesus christ!
What was distracting this person?
Bad break up?
No sex with wife?
Behind on bills?
Death in the family?
Failing in life?
Cute co-worker?
Stoned?
Whatever it is
I'm not so pleased
as how my evening after work turned out to be
I take a photo
put the two together
enjoy what i can
and figure it might make a nice story later.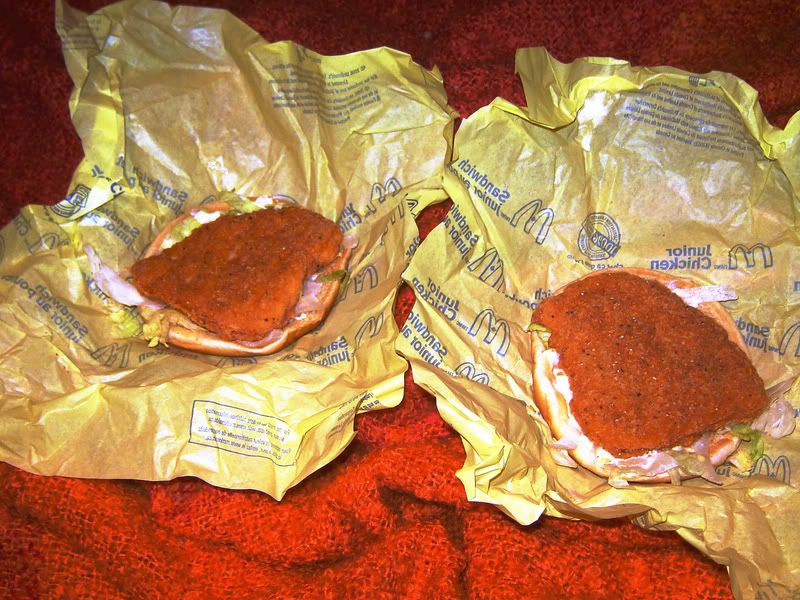 xo
jordan